High blood pressure or hypertension, as it's commonly known, is basically the pressure of blood against the artery walls – and a high blood pressure diet can go a long way to reducing the symptoms associated with it.
High blood pressure can lead to serious damage of your blood vessels and cause kidney disease, heart disease, stroke and a number of other problems.
What you drink and eat has a great effect on your blood pressure or heart. And so you can lower your blood pressure through adopting a high blood pressure diet.
The best diets that can help to lower blood pressure are those that are rich in magnesium, potassium and fiber, as well as those that have lower amounts of sodium.
The following are some of the blood pressure friendly eating habits that you can adopt to help reduce your high blood pressure. So here's a high blood pressure diet for you to follow, starting today:
1. Leafy Greens
Leafy greens contain a lot of potassium, which can assist your kidney to clean out more sodium and reduce your blood pressure. This is mainly done through the urine.
A number of leafy greens are rich in potassium, but you can consider the following; arugula, romaine lettuce, turnip greens, beet greens, kale, swiss chard, spinach and collard greens.
It is, however, important to note that canned vegetables are not the best because they contain a high quantity of added sodium.
Frozen vegetables, on the other hand, contain as many nutrients as fresh vegetables. You can also store frozen vegetables much easier and use them at a later time.
For a healthy and sweet green juice, you can go ahead and blend these vegetables with nut milk or bananas.
2. Red Beets
Beets have sufficient amounts of nitric acid, which can assist you in opening your blood vessels and reducing your pressure.
Studies have also indicated that the nitrates present in beetroot juice can lower blood pressure within 24 hours!
You can choose to make a glass of juice from the beets or just cook and eat the entire root. Beetroot tastes good when added to stews and stir-fries or when roasted.
Baking them into chips is also another great idea. But you have to be cautious when handling this root, because the juice can stain both your clothes and hands.
3. Berries
Berries, particularly blueberries, are very rich in one natural compound known as flavonoids. Studies have been able to prove that eating flavonoid compounds can stave off hypertension and reduce blood pressure.
It is very easy to add strawberries, raspberries and blueberries to your diet and have the best of them. You can choose to put them in your granola or cereal in the morning, or keep using frozen ones for a fast and healthy dessert.
4. Yogurt & Skim Milk
Besides being an excellent source of calcium, skim milk is also very low in fat. These two great elements are good in ensuring that you have low blood pressure.
For those who do not like milk, yogurt is equally great. People who eat more than five servings of yogurt in a week have an almost 20 percent reduction in their risk for having high blood pressure.
For added health benefits, you can also incorporate almond slivers and granola into your yogurt.
Ensure you check for the added sugar whenever you buy your yogurt. It would be preferable if you can find one that has a low amount of sugar.
5. Mackerel, Salmon and Other Fish with Omega-3s
Fish is known for providing the best of lean protein. Salmon or mackerel, which are fatty fish, are great sources of omega-3 fatty acids.
These acids not only reduce your blood pressure, but also they lower triglycerides and reduce inflammation. On top of the mentioned fish types, trout also has a good amount of vitamin D, which is hard to find in most food sources.
Vitamin D is a hormone in nature and can help to lower high blood pressure. Fish is very easy to cook and even flavorful. And you can season it with herbs, olive oil or lemon to get the best out of it.
6. Herbs and Garlic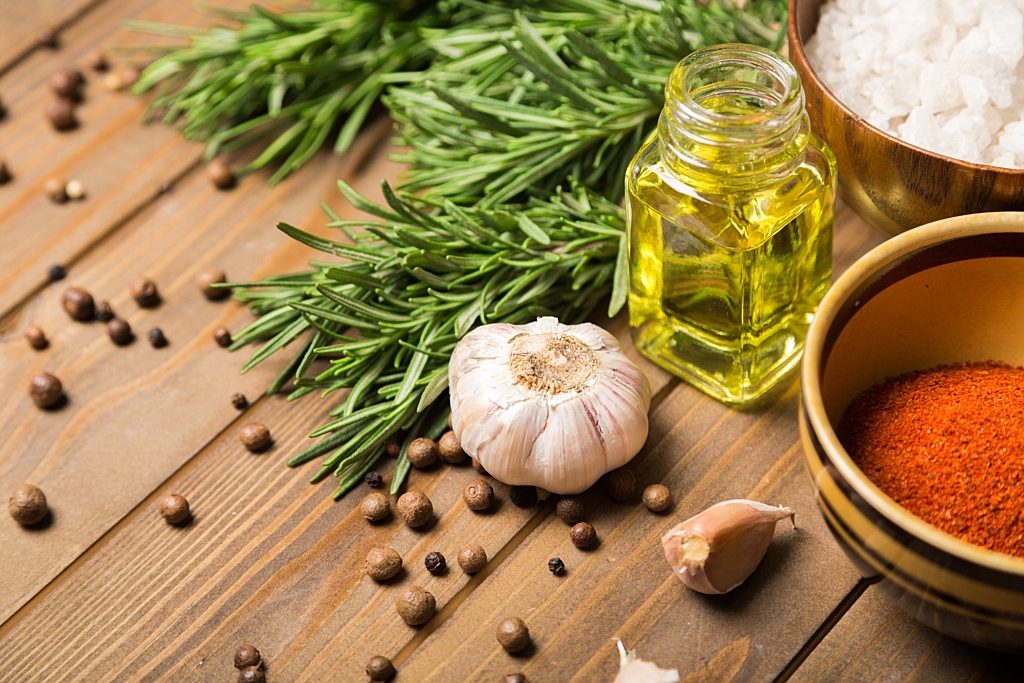 By increasing the quantity of nitric oxide in the body, garlic can assist in reducing high blood pressure.
Nitric acid assists in widening the arteries, or vasodilation, as it is commonly known. This will, in turn, reduce high blood pressure.
You can also reduce the intake of too much salt by including flavorful spices and herbs in your diet. Cinnamon, basil, rosemary and thyme are some of the herbs and spices you can add to your food.
7. Olive Oil
If you are looking for a healthy fat, then olive oil is the best. It has polyphenols; inflammation-fighting compounds that can aid in lowering blood pressure.
Eating either two or three daily servings of olive oil can assist you in having a diet that is healthy and beneficial. Olive oil can also be used in place of butter, canola or other types of salad dressings.
8. Oatmeal
Eating oatmeal is like consuming food that is low in fat, low in sodium and high in fiber all in one to lower your blood pressure.
You can create a great amount of energy to continue with your daily activities by taking oatmeal for your breakfast.
Another awesome option for breakfast is overnight oats. Making them is quite easy; you just soak a half a cup of nut milk and a half a cup of rolled oats in a jar.
Stir it in the morning and add granola, berries and cinnamon for a great taste – and above all, to help you fight high blood pressure.
9. Dark Chocolates in a High Blood Pressure Diet?
It has been proved that consuming dark chocolates is linked to having a lower risk of getting a cardiovascular disease.
According to a study in 2006, up to a hundred grams of dark chocolate in one day can greatly lower the risk of getting a cardiovascular disease – CVD.
Dark chocolates have over sixty percent of cocoa solids and come with lesser amounts of sugar as compared to other regular chocolates.
You can choose to eat your dark chocolate with fruits or add it to your yogurt. The fruits that are best here are raspberries, blueberries or strawberries; which can be used as healthy dessert sources.
Conclusion
A high blood pressure diet will not be an easy thing to stick to.
But if you follow the tips above and incorporate these nine foods in your daily intake of food, you'll be well on your way to lowering your high blood pressure in no time.
Are there any other foods that you think belong on this list?
Let us know in the comments section below. 🙂
(Visited 134 times, 1 visits today)
Get More Health and Wellness Tips
Subscribe To Our Mailing List And Get Interesting Stuff And Updates To Your Email Inbox
Thank you for subscribing.
Something went wrong.